Apricot Muffins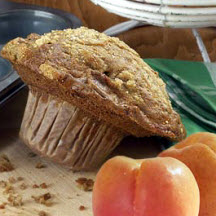 Serve this favorite breakfast and brunch food or as an afternoon snack.
Recipe Ingredients:
1 cup finely diced fresh apricots
1 teaspoon lemon juice
1/4 cup vegetable oil shortening
1/2 cup granulated sugar
1 large egg
1 1/4 cups sifted all-purpose flour
2 teaspoons baking powder
1/2 teaspoon salt
1/4 teaspoon nutmeg
1/4 cup milk (skim or 1%)
1/4 cup chopped walnuts
Granulated sugar for sprinkling
Cooking Directions:
Combine apricot pieces and lemon juice. Cream shortening and sugar, beat in egg and stir in apricots.
In separate bowl, sift flour, baking powder, salt and nutmeg; add to first mixture alternately with milk. Add chopped nuts with the last portion of flour.
Fill greased muffin tins two thirds full. Sprinkle a little granulated sugar on top of each muffin. Bake for about 20 minutes in a preheated oven at 350°F (175°C).
Makes 12 muffins.
Nutritional Information Per Serving (1/12 of recipe): Calories: 148; Total Fat: 6g; Saturated Fat: 1g; Cholesterol: 18mg; Total Carbs: 21g; Fiber: 1g; Protein: 3g; Sodium: 179mg.
Recipe and photograph courtesy of B.C. Tree Fruits Limited.