Beer Bread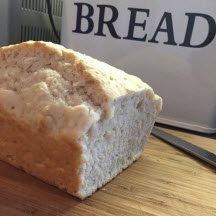 This is the easiest, quickest loaf of bread you'll ever make, yet it almost has the texture of yeast bread.
Recipe Ingredients:
3 cups self-rising flour
3 tablespoons granulated sugar
1 (12-ounce) can "flat" beer*
Cooking Directions:
Lightly grease or spray a 9x5x3-inch loaf pan with nonstick cooking spray. Set aside.
In a mixing bowl, stir together the flour and sugar using a fork, make a well in the center and add the beer, stir with fork until well combined.
Scrape batter into the prepared loaf pan; cover with plastic wrap and set aside while the oven preheats.
Heat the oven to 375°F (190°C).
Once oven is heated, bake the bread for 30 to 35 minutes, or until golden and loaf sounds hollow when tapped.
Immediately remove bread from pan (run a knife between the bread and pan for easier removal) and allow to cool for at least 10 minutes on a wire rack before slicing.
Makes 1 loaf.
*Regular Budweiser beer does very well in this recipe.
Recipe and photograph by Hope Pryor; copyright © 1999; property of CooksRecipes.com. See Terms of Use.