Cranberry Almond Cinnamon Rolls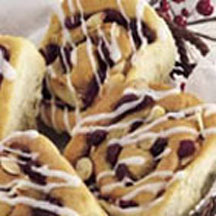 The use of a hot roll mix cuts down on the preparation time, and the sweet-tart dried cranberries add a festive touch to these cinnamon rolls. Of course, if you have a favorite sweet roll dough recipe, use it instead.
Recipe Ingredients:
Dough:
1 (16-ounce) package hot roll mix
1/2 teaspoon cardamom
Filling:
1/4 cup margarine or butter
1/3 cup granulated sugar
1 teaspoon ground cinnamon
1 (6-ounce) package Ocean Spray® Craisins® Original Sweetened Dried Cranberries
1/2 cup sliced almonds
Glaze:
1/2 cup powdered sugar
1 tablespoon milk
1/2 teaspoon almond extract
Cooking Directions:
Grease a 13 x 9 x 2-inch pan.
Prepare dough according to package directions, adding cardamom to dry ingredients. Turn dough out onto a lightly floured surface. Knead dough for 5 minutes; let rest for 5 minutes.
Roll dough into a 15x10x1-inch rectangle on a lightly floured surface. Spread 1/4 cup margarine evenly over dough. Combine sugar and cinnamon in a small bowl; sprinkle evenly over dough. Sprinkle sweetened dried cranberries and almonds evenly over dough.
Starting at the 15-inch side, tightly roll dough jelly roll style, pressing edges to seal. Cut into 15 slices; place cut-side down in pan. Loosely cover with plastic wrap; let rise in a warm place for 30 minutes.
Preheat oven to 375°F (190°C).
Uncover rolls and bake for 25 minutes or until golden brown. Cool in pan 10 minutes. Combine glaze ingredients in a small mixing bowl. Drizzle rolls with glaze.
Makes 15 sweet rolls.
Nutritional Information Per Serving (1/15 of recipe): Cal. 194 (9%DV), Fat Cal. 54, Pro. 3g(6%DV), Carb. 31g (10%DV), Fat 6g (9%DV), Chol. 2mg (0%DV), Sod. 182mg (7%DV), Vit. A 31RE (3%DV), Vit. C 0mg (0%DV), Vit. E <1mg (1%DV), Calcium 15mg (1%DV), Iron 1mg (4%DV), Folate 11Ug (2%DV), Zinc 0mg (0%DV), Pot. 52mg (1%DV), Dietary Exchange: Starch 2, Fat 1.
Recipe and photograph provided courtesy of Ocean Spray Cranberries, Inc.