Cranberry Streusel Brioche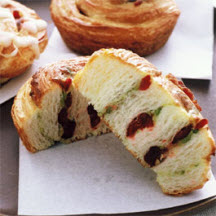 Classic French yeast bread — rich and golden with butter and eggs — with a festive ribbon of sweetened cranberries and streusel.
Recipe Ingredients:
Dough:
4 1/3 cups bread flour
7 large eggs
1/4 cup granulated sugar
1 1/4 teaspoon salt
1 1/4 teaspoons instant yeast
22 tablespoons butter, softened
1 cup cranberries in syrup, drained
Streusel:
1 cup all-purpose flour
3/4 cup brown sugar, firmly packed
1/3 cup granulated sugar
10 tablespoons butter, cold
Cooking Directions:
For Dough: Bring all ingredients to room temperature.
Incorporate flour, eggs, sugar, salt and yeast in a mixing bowl of a stand mixer. Mix with a dough hook on slow speed until ingredients are incorporated, about 3 minutes Dough should be a little wet and sticky. Begin mixing on medium speed and mix until dough begins to smooth out, about 7 to 10 minutes.
Slowly add softened butter to the mixing bowl and continue to mix on medium speed until dough is smooth, about 2 to 3 minutes. Place the dough on a lightly floured table and gently stretch into a rectangle.
Distribute the cranberries evenly over the dough and roll up like a jelly roll to incorporate the cranberries.
Fold the dough in thirds and place in a lightly oiled bowl. Cover bowl with plastic, and allow dough to sit at room temperature 2 to 3 hours, then refrigerate overnight.
For Streusel: Cut the cold butter into chunks. Add to the flour and sugars in a food processor. Pulse until small chunks are formed. Reserve in the refrigerator.
On the next day, divide the cold dough into 3 ounce pieces. Shape the dough into rounds and place in prepared small brioche molds or popover pans.
Allow to rise in a warm place for about 3 hours.
Preheat oven to 350°F (175°C). Brush brioche with beaten egg and top with streusel mixture.
Bake for 12 to 15 minutes at 350°F (175°C), until lightly golden.
Makes 12 servings.
Recipe and photograph courtesy of Cranberry Marketing Committee.