Apricot Honey Oatmeal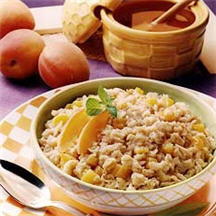 Eating a variety of grains and fruit not only ensures that you get more nutrients, but also helps make breakfast more interesting.
Recipe Ingredients:
3 1/2 cups water
1/3 cup chopped dried apricots
1/4 cup honey
1/2 teaspoon ground cinnamon
2 cups Quaker® Oats (quick or old fashioned, uncooked)
Cooking Directions:
In 3-quart saucepan, bring water, apricots, honey and cinnamon to a boil. Stir in oats; return to boil. Reduce heat to medium; cook about 1 minute for quick oats (or 5 minutes for old fashioned oats) or until most of liquid is absorbed, stirring occasionally
Remove from heat. Let stand until of desired consistency.
Makes 4 servings.
Tip: If desired substitute raisins, dried peaches or pears, dried cranberries or blueberries, dried apples, dates or diced mixed dried fruit for apricots.
Nutritional Information Per Serving (1/4 of recipe): Calories: 270 14% Calories from Fat: 25 Total Fat: 3 4% Saturated Fat: 0.5 0% Trans Fat: 0 Cholesterol: 0 0% Sodium: 10 0.4% Total Carbohydrate: 54 20% Dietary Fiber: 5 20% Sugars: 25 Protein: 6 12% Vitamin A: 586 10% Vitamin C: 1 1% Calcium: 37 4% Iron: 3 15%
Dietary Exchange: starchbread:2; fruit:2
Recipe and photograph provided courtesy of The Quaker Oats Company.