Asparagus Frittata with Red Bell Peppers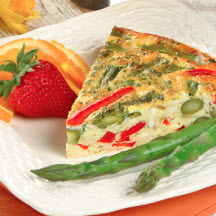 Recipe courtesy of California Asparagus Commission.
Recipe Ingredients:
1 pound California asparagus, trimmed and blanched, salt, as needed
1 red bell pepper, julienned
1/2 cup onion, chopped
2 tablespoons olive oil
8 large eggs, beaten
2 tablespoons Italian (flat-leaf) parsley, chopped
1/4 teaspoon salt
1/4 teaspoon freshly ground pepper
4 ounces feta cheese, crumbled (about 1 cup)
1 1/2 tablespoons butter, softened
Lemon wedges sprigs of Italian parsley for garnish
Cooking Directions:
Reserve 6 asparagus spears. Cut remaining asparagus at an angle into 1-inch pieces, reserve.
Sauté bell pepper in 2 tablespoons olive oil until soft, but not browned, about 7 minutes. Stir in onion and reserved asparagus pieces; sauté for 1 minute. With a slotted spoon remove vegetables to drain on paper toweling, reserve.
Whisk chopped parsley, salt and pepper into beaten eggs. Stir in cheese and reserved sautéed vegetables.
Coat the inside of a heavy, non-stick 12-inch frying pan (with a cover) with softened butter. Pour egg mixture into pan. Bake in a preheated 350°F (175°C) oven, covered, until eggs are just firm, about 35 minutes. Remove cover; bake until top is lightly browned, about 10 minutes.
Loosen the frittata, then cover pan with a large, warmed serving platter. Flip frying pan over onto platter. Cut frittata into 6 wedges; garnish each with 1 reserved asparagus spear. Divide wedges among 6 serving plates, then put a lemon wedge and a sprig of parsley on each plate.
Makes 6 servings.
Tip: Use a cheese planer or a potato peeler to shave cheese paper thin.
Nutritional Information Per Serving (1/6 of recipe): Calories: 270; Calories From Fat: 180; Total Fat: 20g; Saturated Fat: 8g; Cholesterol: 380mg; Total Carbs: 6g; Fiber: 1g; Protein: 15g; Sodium: 480mg.
Recipe and photograph courtesy of California Asparagus Commission.