Baked Eggs with Canadian Bacon, Tomato and Potatoes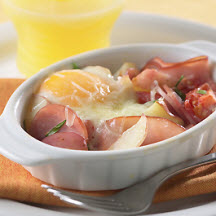 A delicious and hearty way to start your morning is with this baked egg dish, practically a complete country breakfast. Serve with whole grain toast and juice.
Recipe Ingredients:
1 (6-ounce) package Canadian-style bacon*, chopped
Butter-flavored nonstick cooking spray
1 cup cooked red potato cubes
1 small plum tomato, seeded and chopped
2 tablespoons fresh chives, chopped
4 large eggs
1/8 teaspoon black pepper
4 tablespoons half-and-half (light cream)
4 tablespoons Swiss cheese, or Gruyere or white cheddar cheese, finely shredded

Cooking Directions:
Preheat oven to 350°F (175°C). Coat inside of four 6-ounce ramekins or custard cups/ramekins with cooking spray; set aside.
Combine Canadian bacon, potatoes, tomato and chives in a medium bowl. Spoon mixture evenly in ramekins.
Break 1 egg into each ramekin on top of the Canadian bacon mixture. Sprinkle with pepper. Drizzle 1 tablespoon of half-and-half over each egg. Place ramekins on baking sheet.
Bake in preheated oven for 15 to 20 minutes or until egg whites are opaque and yolks have firm edges but soft in centers. Remove from oven.
If desired, sprinkle each with 1 tablespoon cheese. Serve immediately.
Makes 4 servings.
*Or 1 cup chopped ham.
Tip: For a Southwest twist, toss the Canadian bacon mixture with 1/2 teaspoon chili powder before spooning it into the ramekins.
Adapted recipe and photograph provided courtesy of National Pork Board.