Banana Bread Oatmeal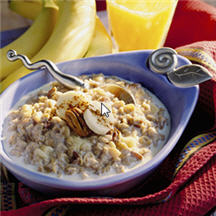 Almost like eating a slice of banana bread with a spoon! Eating a variety of grains and fruit not only ensures that you get more nutrients, but also helps make breakfast more interesting.
Recipe Ingredients:
3 cups fat-free milk
3 tablespoons firmly packed brown sugar
3/4 teaspoon ground cinnamon
1/4 teaspoon salt (optional)
1/4 teaspoon ground nutmeg
2 cups Quaker® Oats (quick or old fashioned, uncooked)
1 cup mashed ripe bananas (about 3 medium)
2 tablespoons coarsely chopped toasted pecans
Accompaniments: (optional)
Plain or vanilla nonfat yogurt
Banana slices
Pecan halves
Cooking Directions:
In medium saucepan, bring milk, sugar, salt and spices to gentle boil (watch carefully); stir in oats. Return to boil; reduce heat to medium. Cook 1 minute for quick oats, 5 minutes for old fashioned oats or until most of liquid is absorbed, stirring occasionally.
Remove oatmeal from heat. Stir in mashed bananas and pecans. Spoon oatmeal into six cereal bowls. Top with yogurt, sliced bananas and pecan halves, if desired.
Makes 6 servings.
Tip: To toast pecans, spread evenly in shallow baking pan. Bake in a preheated oven at 350°F (175°C) 5 to 7 minutes or until light golden brown. Or, spread nuts evenly on microwave-safe plate. Microwave on HIGH 1 minute; stir. Continue to microwave on HIGH, checking every 30 seconds, until nuts are fragrant and brown.
Nutritional Information Per Serving (1/6 of recipe): Calories: 220 11% Calories from Fat: 30 Total Fat: 3.5 6% Saturated Fat: 0.5 3% Trans Fat: 0 Cholesterol: 5 1% Sodium: 55 2% Total Carbohydrate: 40 13% Dietary Fiber: 4 16% Sugars: 18 Protein: 8 17% Vitamin A: 277 6% Vitamin C: 4 6% Calcium: 179 20% Iron: 2 10%.
Dietary Exchange: starchbread:1 1/2; milk:1/2 non-fat; fruit:1; fat:1/2.
Recipe and photograph provided courtesy of The Quaker Oats Company.