Basic Frittata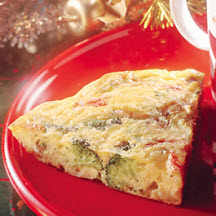 A good, basic recipe for making a frittata, the Italian 'omelette' with tips and serving suggestions. This economical, fast and easy breakfast is an excellent source for protein, choline, and a good source for vitamin A, vitamin D, folate, calcium and iron.
Recipe Ingredients:
4 large eggs
1/4 cup liquid, such as milk, tomato juice, broth
1/4 teaspoon dried thyme leaves or herb of your choice
Salt and pepper
1 cup filling (see below for suggestions)
2 teaspoons butter or vegetable oil

Cooking Directions:
Beat eggs, liquid, herb and salt and pepper in medium bowl until blended. ADD filling; mix well.
Heat butter in 6 to 8-inch nonstick omelet pan or skillet over medium heat until melted. POUR IN egg mixture; cook over low to medium heat until eggs are almost set, about 8 to 10 minutes.
Remove from heat. COVER and LET STAND until eggs are completely set and no visible liquid egg remains, 5 to 10 minutes.
Cut into wedges to serve.
Makes 2 to 4 servings.
Tips and Serving Suggestions:
Season your frittata with chopped fresh herbs, such as parsley, basil or cilantro. Choose seasonings that complement your filling.

Frittatas taste good cold and travel well - perfect for picnic fare or a take-along lunch.

Make fillings from your favorite foods or from leftovers. Use a combination of meat, seafood or poultry, cheese, vegetables and cooked pasta or grains.

For fewer or more servings: Adjust the filling, liquid, seasonings and pan size proportionally to the number of eggs used. For 2 eggs, use a 6-inch pan; for 6 eggs, an 8-inch pan; for 8 eggs, an 8 to 10-inch pan.

Filling ingredients should be cooked, not raw. Pieces should be cut fairly small and drained well.

Three ways to serve a frittata: Serve wedges right from pan, slide uncut frittata topside-up onto platter, or invert frittata onto platter to show its nicely-browned bottom.

Broiler Method: Prepare frittata in a pan with an ovenproof handle. (To make handle ovenproof, wrap it completely in aluminum foil.) Cook on stovetop until eggs are almost set. Sprinkle with shredded cheese, bread crumbs or crushed chips. Broil about 6 inches from heat until eggs are completely set and no visible liquid egg remains and cheese is melted or topping is lightly browned.
Recipe and photograph provided courtesy of the American Egg Board (AEB) and Egg Nutrition Center (ENC).