Basic Hard-Boiled Eggs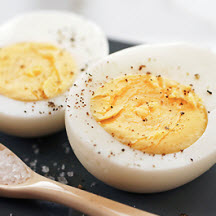 Recipe courtesy of the American Egg Board.
Recipe Ingredients:
3 large eggs
Cooking Directions:
Place eggs in saucepan large enough to hold them in single layer. Add cold water to cover eggs by 1-inch Heat over high heat just to boiling. Remove from burner. Cover pan.
Let eggs stand in hot water about 15 minutes for large eggs (12 minutes for medium eggs; 18 minutes for extra large).
Drain immediately and serve warm. or cool completely under cold running water or in bowl of ice water, then refrigerate.
Makes 2 to 4 servings.
Note: Actually, these eggs are "hard-cooked", not "hard-boiled"! Although the cooking water must come to a full boil in this method, the pan is immediately removed from the heat so that the eggs cook gently in the hot water. This produces tender, not rubbery, eggs and minimizes cracking.
Nutritional Information Per Serving (1 egg): Calories: 71; Total Fat: 5g; Saturated Fat: 2g; Cholesterol: 211mg; Total Carbs: 0g; Fiber: 0g; Protein: 6g; Sodium: 70mg.
Recipe and photograph courtesy of the American Egg Board.