Basic Microwave Omelet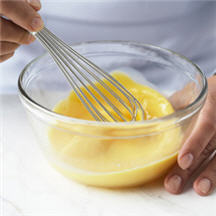 A good, basic recipe for making an omelet in the microwave with tips and serving suggestions. This economical, fast and easy breakfast is an excellent source for protein, choline, and a good source for vitamin A, vitamin D, folate, calcium and iron.
Recipe Ingredients:
2 large eggs
2 tablespoons water
1/8 teaspoon salt
Dash pepper
1 teaspoon butter
1/3 to 1/2 cup filling, such as shredded cheese, finely chopped ham

Cooking Directions:
Beat eggs, water, salt and pepper in small bowl until blended.
Microwave butter in 9-inch glass pie plate on HIGH until melted, about 30 seconds. TILT plate to coat bottom evenly. POUR egg mixture into hot pie plate. COVER TIGHTLY with plastic wrap, leaving a small vent.
Microwave on HIGH 1 1/2 to 1 3/4 minutes. Do not stir.
When top is thickened and no visible liquid egg remains, PLACE filling on one half of the omelet. FOLD omelet in half with turner; slide from pie plate onto serving plate.
Serve immediately.
Makes 1 to 2 servings.
Tips and Serving Suggestions:
The secret of success. A tight cover is essential to achieve a tender, easily rolled or folded omelet in the microwave. It makes stirring unnecessary, and it traps steam, which promotes even cooking.

Prepare filling first. Omelets cook so quickly, any fillings should be ready to go before starting the eggs. Plan on 1/3 to 1/2 cup filling per 2-egg omelet.
Raw foods should be cooked. Refrigerated foods should be heated.
Shredded cheese and room temperature foods, such as jams and jellies are fine as is. Pieces should be small to prevent tearing the omelet when it's folded.

Microwave ovens vary. Cook times may need to be adjusted.
Invent your own fillings. The possibilities are endless. Use one or more of your favorite foods. Some classic omelet fillings include shredded Cheddar or Gruyere cheese, sour cream, diced ham, crisp bacon, sautéed mushrooms, bell peppers or tomatoes, caramelized onions, fresh herbs, even tasty leftovers from last night's dinner.

Feeling sophisticated? Combine broccoli, Brie and toasted almonds.
In a South-of-the-border mood? Try corn, salsa, chorizo and jalapeño cheese.

For a sweet omelet, omit pepper and add a dash of sugar to egg mixture. Fill with preserves, finely chopped toasted nuts or berries; dust with powdered sugar.
For an elegant touch, spoon a tablespoon of warmed Cognac or Grand Marnier over and flambé.
Recipe and photograph provided courtesy of the American Egg Board (AEB) and Egg Nutrition Center (ENC).