Cheddar, Ham and Chive Waffles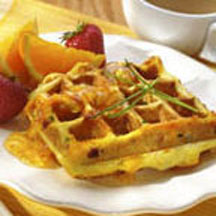 These delicious, savory waffles pair perfectly with warm, subtly sweet orange marmalade or maple syrup.
Recipe Ingredients:
2 cups all-purpose flour
1 teaspoon salt
1 1/2 tablespoons baking powder
3 large eggs
1 cup Sargento® Ricotta Cheese
1 cup milk or half-and-half
1/2 cup butter, melted
Zest of 1 orange
1 cup (4 ounces) Sargento® Limited Edition Shredded Wisconsin Extra Sharp Cheddar Cheese
1 cup smoked ham, diced
1/4 cup chives, chopped
Orange marmalade or maple syrup, warmed
Cooking Directions:
Mix flour, salt and baking powder in large bowl.
In a separate bowl, thoroughly combine eggs, Ricotta, milk, butter and orange zest. Gently stir into flour mixture and fold in cheddar, ham and chives.
For each waffle, pour about 1/2 cup batter into preheated nonstick waffle iron. Bake about 3 minutes or until golden brown. Repeat with remaining batter.
Serve with warm orange marmalade or maple syrup.
Makes 4 servings.
Recipe and photograph courtesy of Sargento Food Inc.