Cheese Pasta Frittata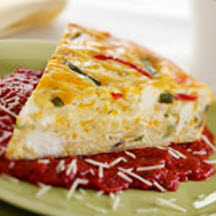 Have leftover cooked spaghetti pasta and sauce on hand? Well, here's a recipe that turns such leftovers into something new and delicious. But hey, don't wait for leftovers, this recipe is worthy of cooking up fresh from the get go! Recipe by Chef Ina Pickney.

Recipe Ingredients:
Vegetable oil
3/4 cup onion, chopped
2 garlic cloves, minced
Olive oil, for frying
3/4 cup red pepper, julienned
1 1/2 cups sliced mushrooms
1 1/2 cups zucchini, julienned
1 1/2 teaspoons salt
1 teaspoon dried oregano leaves
1 1/2 teaspoons salt
1 teaspoon ground black pepper
6 large eggs
1/2 cup whole milk
1 1/2 cups (6 ounces) sharp cheddar cheese, shredded
1/2 cup (about 2 ounces) Parmesan cheese, grated
1 (8-ounce) package cream cheese
2 cups cooked spaghetti pasta
Tomato sauce (marinara sauce)
Cooking Directions:
Preheat oven to 350°F (175°C).
Lightly brush a 10-inch round pan with vegetable oil. Cut a piece of parchment, place in the pan, brush again with oil, and set aside.
Sauté onions and garlic in olive oil until soft. Add red pepper, mushrooms, and zucchini, and continue to cook until all the vegetables are soft. Drain the liquid and add the oregano, salt, and pepper. Set aside to cool.
In a large mixer bowl, beat the eggs, milk, cheddar, and Parmesan cheese on low speed. When combined, add cream cheese in small, bite-size bits (pull off pieces by hand).
Put cooked spaghetti into baking pan. Add vegetables. Pour in egg mixture, and mix with hands to equally distribute ingredients. Pat down so liquid covers solids.
Bake for 30 to 40 minutes until firm to the touch and lightly brown. The frittata will puff and settle when cool.
Serve immediately on bed of lightly sautéed tomato sauce.
Makes 6 to 8 servings.
Tip: If you want to serve frittata the next day, bake for only 25 minutes, cool and then refrigerate. When ready to serve, cut into slices and reheat for 10 minutes at 400°F (205°C).
Adapted recipe and photograph courtesy of Wisconsin Milk Marketing Board, Inc.