Cheesy Idaho® Potato Hashbrown Muffins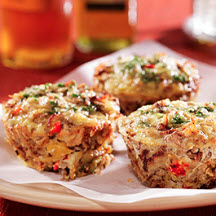 Recipe courtesy of Chef Bill Jump of the Hyatt Regency Century Plaza in Los Angeles, California.
Recipe Ingredients:
5 large eggs
2 ounces plain yogurt (1/4 cup)
1/2 teaspoon sea salt
1/2 teaspoon fresh ground black pepper
1/4 cup chopped chives
2 ounces butter (1/4 cup)
2 ounces diced onion (1/4 cup)
2 ounces diced red and yellow peppers (1/4 cup)
3 large Idaho® potatoes, shredded
4 shredded shredded cheddar cheese
4 ounces shredded Monterey Jack cheese
Cooking Directions:
Preheat oven to 350°F (175°C)
Beat eggs, yogurt, salt, ground pepper and chives together.
In large skillet, melt whole butter, sauté peppers and onions for about 2 minutes.
Add shredded Idaho® potatoes and sauté until golden brown.
Remove from heat and cool slightly to touch.
Using regular greased muffin molds, place approximately 1 1/2 ounces of potato mixture in each section; manipulate mixture so it coats the bottom and sides of each mold, forming a cup.
Combine cheeses and place about 1/2 ounce into each "cup"; top with more potato mixture.
Stir egg mixture and carefully pour into each mold; do not over fill.
Bake at 350°F (175°C) for approximately 25 minutes or until knife comes out clean when inserted.
Makes 4 servings.
Tip: Save the scooped out potato and mash with a bit of butter, salt, and pepper. Then simply pan-fry it for a double bonus.
Nutritional Information Per Serving (1/4 of recipe): Calories: 334; Total Fat: 19g; Cholesterol: 448mg; Total Carbs: 22g; Protein: 19g; Sodium: 325mg.
Recipe and photograph courtesy of the Idaho Potato Commission.