Corn Cakes with Queso Fresco Salsa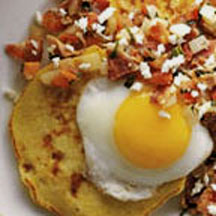 For a hearty breakfast, try these corn cakes topped with a fried egg and a delicious tomato, bacon and cheese salsa. Great served as a side dish for many types of meals, too.
Recipe Ingredients:
8 slices bacon, cooked crisp and chopped
1 medium tomato, diced
1 small onion, diced
1 tablespoon fresh basil, chopped
1/2 cup cornmeal
1/2 cup biscuit mix
6 large eggs - divided use
1/2 cup sour cream
3 tablespoons honey
2 tablespoons butter, melted, plus more for cooking
1 1/2 cups frozen corn kernels, thawed
1/3 cup (2 to 3 ounces) Wisconsin Queso Fresco Cheese, plus more for garnish
Cooking Directions:
In small bowl, combine bacon, tomato, onion and basil; set aside.
In medium bowl, combine cornmeal and biscuit mix; make well in center; set aside.
In another bowl, beat 2 eggs. Add sour cream, honey, 2 tablespoons melted butter and corn; mix to combine.
Pour wet mixture all at once into well in dry ingredients and stir just until moistened.
Melt 1 tablespoon butter on griddle or bottom of heavy skillet. Pour 1/3 cup batter for each corn cake. Flip corn cakes when underside is golden brown and cook 1 to 2 minutes more, or until browned. Remove to warm platter, repeat with remaining batter, adding butter as necessary.
In saucepan over medium heat, heat 1 tablespoon butter and fry 4 eggs sunny-side up; set aside.
In same pan, add bacon mixture and cook over medium-high heat 2 to 3 minutes. Add Queso Fresco, remove from heat and toss.
To assemble, place 2 corn cakes on each of 4 plates, top with an egg, divide salsa evenly among plates; garnish with additional Queso Fresco.
Makes 4 servings.
Recipe and photograph provided courtesy of Wisconsin Milk Marketing Board, Inc.