Crab and Asparagus Frittata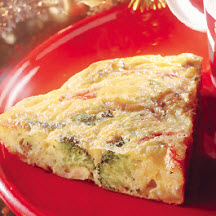 Recipe courtesy of the American Egg Board.
Recipe Ingredients:
1 cup small fresh asparagus pieces
1 cup sliced mushrooms
1/2 cup sliced green onions
1/2 cup thin red bell pepper strips
1/2 cup flaked crab meat (2 ounces)
8 large eggs
1/4 cup water
1 teaspoon dried Italian seasoning
1/2 cup part-skim mozzarella cheese (2 ounces)
1 tablespoon freshly grated Parmesan cheese
Cooking Directions:
Preheat oven to 375°F (190°C).
Coat 10-inch nonstick skillet with oven proof handle with cooking spray; heat over medium-high heat until hot. Add asparagus, mushrooms, onions and bell pepper; sauté until crisp-tender, about 5 minutes. Remove from heat. Add crab; mix well.
Beat eggs, water and Italian seasoning in medium bowl until blended. Stir in mozzarella cheese; pour over crab mixture in skillet. Cook over medium heat until eggs are set at edges, 5 to 8 minutes. Sprinkle with Parmesan cheese.
Bake in 375°F (190°C) oven until top is lightly browned, eggs are completely set and no visible liquid egg remains, 8 to 10 minutes Cut into wedges.
Makes 4 servings.
Tips:
To make handle oven proof, wrap it completely in aluminum foil.
Chopped cooked shrimp can be substituted for the crab.
Nutritional Information Per Serving (1/4 of recipe): Calories: 224; Total Fat: 14g; Saturated Fat: 5g; Cholesterol: 442mg; Total Carbs: 5g; Fiber: 1g; Protein: 22g; Sodium: 272mg.
Recipe and photograph courtesy of the American Egg Board.