Easy Egg Breakfast Quesadillas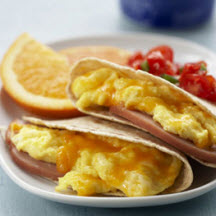 Spice up your on-the-go egg breakfast with a quick and easy quesadilla. Wrap up your favorite breakfast ingredients and take them with you.
This recipe is an excellent source of protein, vitamin D, calcium and choline, and a good source of vitamin A, folate and iron.
Recipe Ingredients:
1/2 cup shredded Mexican cheese blend (2 ounces)
2 (7-inch) whole wheat or flour tortillas
4 slices Canadian-style bacon (2 1/2 ounces)
4 large eggs, beaten
Salsa
Cooking Directions:
Sprinkle 1/4 cup cheese on one side of each tortilla. Top each with 2 bacon slices.
Coat large nonstick skillet with cooking spray; heat over medium heat until hot. Pour in eggs. As eggs begin to set, gently pull the eggs across the pan with an inverted turner, forming large soft curds. Continue cooking - pulling, lifting and folding eggs - until thickened and no visible liquid egg remains. Do not stir constantly.
Spoon eggs on top of bacon, dividing evenly. Fold tortillas over filling to cover, pressing gently.
Clean skillet. Coat with cooking spray; heat over medium-low heat until hot. Toast quesadillas just until cheese is melted, about 1 to 2 minutes per side. Cut into wedges; serve with salsa.
Makes 2 servings.
Tip: 2 thin ham slices can be substituted for the Canadian-style bacon.
Nutritional Information Per Serving (1/2 of recipe): Calories: 449; Total Fat: 24 g (Saturated fat: 10 g; Polyunsaturated fat: 2 g; Monounsaturated fat: 5 g) Cholesterol: 415 mg; Sodium: 1011 mg; Carbohydrates: 24 g; Dietary Fiber: 2 g; Protein: 30 g; Vitamin A: 840 IU; Vitamin D: 121.3 IU; Folate: 48.4 mcg; Calcium: 258.8 mg; Iron: 3.1 mg; Choline: 275.4 mg.
Recipe and photograph provided courtesy of the American Egg Board (AEB) and Egg Nutrition Center (ENC).