Frittata Roma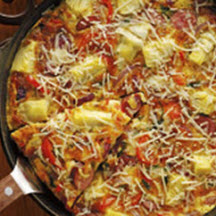 Frittatas are so easy and delicious, and best of all they can be served anytime of day, breakfast, lunch or dinner.
Recipe Ingredients:
2 tablespoons butter
1/4 cup sundried tomatoes, chopped
1 red pepper, sliced
1 red onion, sliced
8 ounces fully-cooked smoked sausage, such as kielbasa, cut into 1/4-inch thick coins
1 (14-ounce) can small artichoke hearts, quartered
1 cup (4 ounces) Wisconsin Provolone Cheese, shredded
6 large eggs
2 tablespoons fresh basil, chopped
1/2 teaspoon salt
1/2 teaspoon ground black pepper
1/4 cup (1 ounce) Wisconsin Parmesan Cheese, shredded
Cooking Directions:
Preheat broiler.
In 10-inch ovenproof skillet, heat butter. Add sundried tomatoes, peppers and onions; cook 3 minutes until onion is tender. Remove from heat, stir in sausage, artichokes and Provolone.
In medium bowl, beat eggs with basil, salt and pepper. Pour egg mixture over pepper and onion mixture. Gently toss together.
Return skillet to stove over medium-low heat; cook until frittata edges are set, 3 to 5 minutes.
Place frittata under preheated broiler, 5 inches from heat for 3 minutes, or until golden and puffed. Remove from broiler, sprinkle with Parmesan, and let stand 5 minutes before cutting.
Makes 6 servings.
Recipe and photograph provided courtesy of Wisconsin Milk Marketing Board, Inc.