Fruit and Honey Granola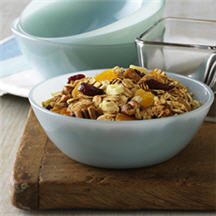 Homemade granola is great eaten alone as a snack, or use it to layer between vanilla yogurt and fresh cut-up fruit for a deliciously easy breakfast parfait.
Eating a variety of grains and fruits not only ensures that you get more nutrients, but also helps make your meals and snacks more interesting.
Recipe Ingredients:
3 1/2 cups Quaker® Oats (quick or old fashioned, uncooked)
2 tablespoons coarsely chopped pecans
1/2 cup honey
2 tablespoons vegetable oil
1 teaspoon vanilla extract
1/2 teaspoon ground cinnamon
1/8 to 1/4 teaspoon salt (optional)
1 (6-ounce) package diced dried mixed fruit (about 1 1/3 cups)
Cooking Directions:
Preheat oven to 350°F (175°C).
In large bowl, combine oats and pecans; mix well. Spread evenly in 15 x 10-inch jelly roll pan or on rimmed baking sheet. In small bowl, combine honey, oil, vanilla, cinnamon , and salt (if desired); mix well. Pour over oat mixture; mix well.
Bake 30 to 35 minutes or until golden brown, stirring every 10 minutes. Stir in dried fruit. Cool completely. Store tightly covered up to 1 week.
Makes 5 cups granola.
Variations: Substitute dried cranberries, chopped dried apricots or chopped dried peaches for dried mixed fruit.
Nutritional Information Per Serving (1/2 cup): Calories: 210 11% Calories from Fat: 48 Total Fat: 5 8% Saturated Fat: 0.5 3% Trans Fat: 0 Cholesterol: 0 0% Sodium: 0 0% Total Carbohydrate: 40 13% Dietary Fiber: 4 15% Sugars: 13 Protein: 4 8% Vitamin A: 379 8% Vitamin C: 1 1% Calcium: 21 2% Iron: 2 10%
Dietary Exchange: starchbread:1; fruit:1 1/2; fat:1/2.
Recipe and photograph provided courtesy of The Quaker Oats Company.