Granny's Granola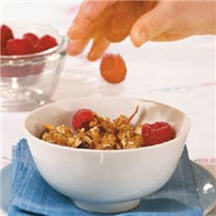 Just a half cup of granola in the morning provides your kids carbohydrates for energy and protein to keep them going until lunchtime. Serve it over low-fat yogurt for an added calcium kick.
Recipe Ingredients:
Nonstick cooking spray
3 cups regular rolled oats
1 cup coarsely shredded unpeeled apple
1/2 cup toasted wheat germ
1/4 cup water
1/4 cup honey
1 1/2 teaspoons ground cinnamon
1 teaspoon vanilla or 1/2 teaspoon almond extract
Milk
Fresh raspberries, blueberries, and/or sliced strawberries (optional)
Cooking Directions:
Lightly coat a 15x10x1-inch baking pan with cooking spray; set aside. In a large bowl combine oats, apple, and wheat germ; mix well. In a small saucepan stir together water, honey, and cinnamon. Bring to boiling; remove from heat. Stir in vanilla. Pour over the oat mixture; toss to coat. Spread oat mixture evenly in prepared baking pan.
Bake in a 325°F (160°C) oven about 45 minutes or until golden brown, stirring occasionally. Spread granola onto foil. Cool about 30 minutes before serving. Serve the granola with milk and, if desired, fresh berries. Store remaining granola in a tightly covered container in the refrigerator up to 2 weeks.
Makes 8 (1/2-cup) servings.
Nutritional Information Per Serving (1/8 of recipe): calories: 272, total fat: 6g, saturated fat: 2g, cholesterol: 10mg, sodium: 63mg, carbohydrate: 45g, fiber: 5g, protein: 11g, vitamin C: 4%, calcium: 18%, iron: 14%, starch: 2.5diabetic exchange, milk: .5diabetic exchange, fat: .5diabetic exchange
Recipe provided by Better Homes and Gardens - BHG.com a member of the Home and Family Network for the best of cooking, gardening, decorating and more. © 2003 Meredith Corporation. All Rights Reserved.