Orange Mincemeat Crêpes with Cream Sauce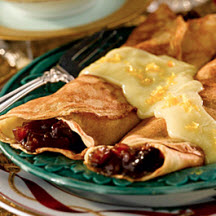 Recipe courtesy of the American Egg Board.
Recipe Ingredients:
Orange Dessert Crêpes:
3 large eggs
1 cup skim milk
3 tablespoons butter, melted
3/4 cup all-purpose flour
2 tablespoons cup granulated sugar
2 teaspoons grated orange rind
1/2 teaspoon salt
Filling:
1 (27-ounce) jar prepared mincemeat pie filling made with apples and raisins
Orange Cream Sauce:
2 egg yolks
1/2 cup granulated sugar
1 tablespoon cornstarch
1/2 cup skim milk
1/2 cup orange juice
Cooking Directions:
For Orange Dessert Crêpes: Combine all ingredients in blender container. Blend about 1 minute. Scrape down sides of blender container with rubber spatula; continue blending until smooth, about 30 seconds.
Heat a non-stick 10-inch skillet or omelet pan to a medium-high heat, just enough to sizzle a drop of water. For each crêpe, pour 1/4 cup of batter in pan, rotating pan as batter is poured. Cook until lightly browned on bottom. Remove from pan or if desired, turn and brown other side. (Crêpes to be filled need only to be browned on one side. Place filling on the side of the crêpe that is not browned.)
For Filling: Spoon about 1/4 cup mincemeat down the center of each crêpe. Roll crêpe or fold two opposite sides of crêpe over filling.

For Orange Cream Sauce: Beat egg yolks with sugar and cornstarch in a large glass bowl. Gradually stir in milk and orange juice to blend. Cover and microwave on HIGH for 2 minutes Remove and stir sauce. Cover and microwave on HIGH again for 30 seconds at a time, stirring after each cooking, until thickened to desired consistency. Makes 1 1/2 cups sauce.
To Serve: Arrange two crêpes on each serving plate. Spoon some of the Orange Cream Sauce over each serving.
Makes 5 servings.
Recipe and photograph courtesy of the American Egg Board.