Oven Roasted Plums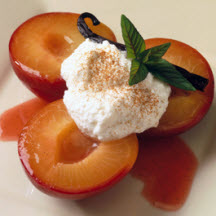 Recipe courtesy of California Tree Fruit Agreement.
Recipe Ingredients:
1/2 cup orange juice
1 vanilla extract bean
6 fresh California plums, pitted and halved lengthwise
2 tablespoons granulated sugar
Ricotta Cheese Topping:
3/4 cup skim milk ricotta cheese
3 tablespoons honey
Cinnamon sugar for sprinkling (optional)
Cooking Directions:
Preheat oven to 400°F (205°C).
Pour orange juice into a baking dish. With the tip of a sharp knife, scrape the insides of the vanilla extract bean into the dish, reserving the pod. Place halved plums, cut-side down, in the baking dish. Sprinkle with sugar and lay the vanilla extract pod on top of the plums.
Bake until plums feel a little soft, about 10 to 12 minutes. Cool to room temperature in the baking dish, then remove and chill until ready to serve. Reserve any pan juices to pour over the plums later.
To Serve: Place three plum halves cut-side up on a plate. Top with Ricotta Cheese Topping*, and sprinkle with cinnamon sugar, if desired. Drizzle with reserved pan juices. Serve immediately.
For Ricotta Cheese Topping: Blend ricotta cheese and honey in a food processor until smooth. Chill until ready to serve.
Makes 4 servings.
*Or serve with vanilla ice cream or sweetened whipped cream.
Nutritional Information Per Serving (1/4 of recipe): Calories: 92; Total Fat: 1g; Cholesterol: 0mg; Total Carbs: 23g; Fiber: 1g; Protein: 1g; Sodium: 2mg.
Recipe and photograph courtesy of California Tree Fruit Agreement.