Tropical Granola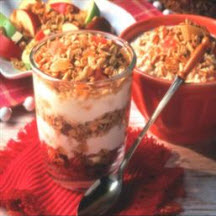 Eating a variety of grains and fruit not only ensures that you get more nutrients, but also helps make breakfast more interesting.
Recipe Ingredients:
3 1/2 cups Quaker® Oats (quick or old fashioned, uncooked)
1/3 cup coarsely chopped slivered almonds
2 tablespoons finely chopped crystallized ginger (optional)
1/2 cup honey
4 tablespoons (1/2 stick) butter or margarine, melted
1-1/2 to 2 teaspoons ground ginger
1/4 teaspoon salt
3/4 cup chopped dried tropical fruit mix
Cooking Directions:
Preheat oven to 350°F (175°C).
In large bowl, combine oats, almonds and, if desired, crystallized ginger; mix well. In small bowl, combine honey, butter, ground ginger and salt; blend well. Drizzle over oat mixture; mix well. Spread evenly in 15 x 10-inch jelly roll pan.
Bake 18 to 20 minutes, stirring every 5 minutes. Remove from oven; immediately stir in dried fruit. Cool completely in pan on wire rack Store in tightly covered container.
Serve with milk as a breakfast cereal, stir into low-fat yogurt, or sprinkle over fresh fruit, ice cream or frozen yogurt.
Makes about 4 1/2 cups.
Tip: To toast pecans, spread evenly in shallow baking pan. Bake in a preheated oven at 350°F (175°C) 5 to 7 minutes or until light golden brown. Or, spread nuts evenly on microwave-safe plate. Microwave on HIGH 1 minute; stir. Continue to microwave on HIGH, checking every 30 seconds, until nuts are fragrant and brown.
Nutritional Information Per Serving (1/2 cup granola): Calories: 270 Calories from Fat: 80 Total Fat: 9 Saturated Fat: 3.5 Cholesterol: 15 Sodium: 105 Total Carbohydrate: 44 Dietary Fiber: 4 Sugars: 22 Protein: 5.
Recipe and photograph provided courtesy of The Quaker Oats Company.