Plum Coffeecake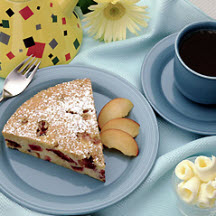 Served warm or cool, this delicious plum coffeecake is perfect for brunch or dessert.
Recipe Ingredients:
1/2 cup (1 stick) butter, room temperature
2/3 cup granulated sugar
4 large eggs
1 teaspoon vanilla extract
1 teaspoon cup all-purpose flour
1 teaspoon baking powder
1/2 teaspoon ground cinnamon
1 1/2 cups diced fresh plums (about 8 ounces) - divided use
Cooking Directions:
Preheat oven to 375°F (190°C). Grease a 9-inch round baking pan; set aside.
Beat butter and sugar in mixer bowl on medium speed until light and fluffy. Add eggs and vanilla; beat until well-blended.
Mix flour, baking powder and cinnamon in medium bowl. Add to egg mixture; beat on low speed until smooth. Fold in 3/4 cup of the plums.
Spread batter in prepared baking pan. Top with remaining plums.
Bake in preheated 375°F (190°C) oven until top is lightly browned and center springs back when lightly tapped with finger, 30 to 35 minutes.
Cool coffeecake in pan on a wire rack.
Makes 8 servings.
Nutritional Tip: Good Source: Vitamin A, Folate and Choline.
Nutritional Information Per Serving (1/8 of recipe): Calories: 274; Total Fat: 14g; Saturated fat: 8g; Polyunsaturated fat: 1g; Monounsaturated fat: 4g; Cholesterol: 124mg; Sodium: 83mg; Carbohydrates: 32g; Dietary Fiber: 1g; Protein: 5g; Vitamin A: 588.1IU; Vitamin D: 29IU; Folate: 42.2mcg; Calcium: 65.7mg; Iron: 1.3mg; Choline: 67.6mg
Recipe and photograph provided courtesy of the American Egg Board (AEB) and Egg Nutrition Center (ENC).