Punch Bowl Cake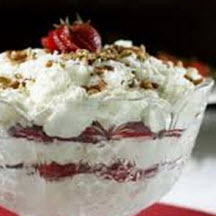 This terrific version of the classic 'Punch Bowl Cake', created by Paula Deen, is from The Lady & Sons Savannah Country Cookbook.
Recipe Ingredients:
1 (18.25-ounce) package yellow cake mix
2 (3.5-ounce) packages instant vanilla pudding mix (prepared according to instructions on box)
1 (20-ounce) can crushed pineapple, drained
6 medium bananas, sliced
2 pints strawberries** (crush one pint, slice one pint, and mix both together)
1 (24-ounce) container frozen non-dairy whipped topping, thawed*
Cooking Directions:
Prepare cake mix in two 9-inch round pans according to directions.
Put one layer of cake in the bottom of a punch bowl.
Add half of the pudding, half of the pineapple, 3 sliced bananas, half of the strawberries, and half of the whipped topping.
Put another layer of cake in punch bowl along with remaining pudding, pineapple, bananas, and strawberries.
Top off with whipped topping and sprinkle strawberry juice on top.
Makes 12 servings.
*Or, beat 1 quart heavy cream with 1 cup granulated sugar until stiff.
**Be sure to reserve some of the strawberry juice to drizzle on top of this yummy dessert.