Almond Rice Madeleines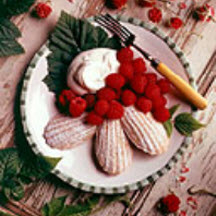 These delicate almond Madeleines are made with cooked rice, and not wheat flour, making this a gluten-free recipe.
Recipe Ingredients:
1 cup whole blanched almonds, lightly toasted
3/4 cup sweetened flaked coconut
1 1/2 cups granulated sugar
3 cups cooked rice, chilled
3 large egg whites
Vegetable cooking spray
Fresh raspberries for accompaniment (optional)
Whipped cream or frozen non-dairy whipped topping for accompaniment (optional)
Cooking Directions:
Chop almonds in food processor until finely ground. Add coconut and sugar; process until coconut is finely minced. Add rice; pulse to blend. Add egg whites; pulse to blend.
Spoon mixture evenly into madeleine pans or miniature muffin tins coated with cooking spray, filling to top.
Bake in a preheated oven at 350°F (160°C) 25 to 30 minutes or until lightly browned.
Cool completely in pans on wire rack.
Run a sharp knife around each madeleine shell, and gently remove from pan. Cover and refrigerate 2 hours or until serving time.
Serve with raspberries and whipped topping.
Makes 3 dozen.
Recipe and photograph provided courtesy of the USA Rice Federation.