Cherry Madeleines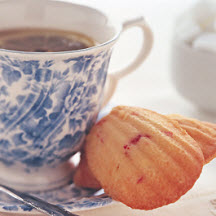 Madeleines, buttery French teacakes, have a delightful spongy texture.
Recipe Ingredients:
4 large eggs, room temperature
2/3 cup granulated sugar
1/4 teaspoon almond extract
1/4 teaspoon vanilla extract
1 cup all-purpose flour
1/2 cup (1 stick) butter, melted and cooled
1/3 cup maraschino cherries, drained, blotted dry and finely chopped
Cooking Directions:
Preheat oven to 375°F (190°C). Generously coat 2 -adeleine pans (12 cups per pan) with cooking spray; dust with flour, tapping out excess.
Beat eggs and sugar in mixer bowl with whisk attachment on high speed until light and fluffy, 5 to 10 minutes. Beat in almond extract and vanilla extract.
Fold in flour, 1/3 at a time. Fold in butter, 1/3 at a time. Fold in cherries.
Spoon 2 tablespoons batter into each Madeleine cup.
Bake in 375°F (190°C) oven until cookies pull away from sides of cups and wooden pick inserted in center comes out clean, 8 to 10 minutes.
Loosen cookies with tip of knife if necessary. Remove from pans immediately; cool completely on wire racks.
Makes 24 cookies.
Madeleines are traditionally baked in pans with cups shaped like elongated scallop shells. The pans usually have 12 cups each. If you only have 1 pan, bake half the batter. Quickly clean the molds, let cool, then grease and flour again before baking remaining batter.
Pan Alternate: Mini muffin pans (1 3/4-inch diameter) can be substituted for Madeleine pans. Use 1 1/2 tablespoons batter for each mini muffin and increase baking time to 10 to 12 minutes Because these cups hold less batter, you will need 3 pans. Or, plan to bake batter in 3 batches, cooling pan before each use.
Nutritional Information Per Serving (1/24 of recipe): Calories: 90; Total Fat: 5g; Saturated Fat: 3g; Cholesterol: 45mg; Total Carbs: 11g; Fiber: 0g; Protein: 2g; Sodium: 12mg.
Recipe and photograph courtesy of The Incredible Edible Egg™.