Caribbean Rice Pudding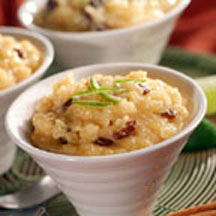 This popular dessert was brought to America by the Spaniards, and from the Rio Grande Valley to Patagonia, one can enjoy the taste of many variations. In this recipe, the lime (sister to the tropical limón agrio) gives a Caribbean touch to its incomparable and creamy texture.
Recipe Ingredients:
2 cups water
1 cup uncooked medium-grain rice
2 (12-ounce) cans NESTLÉ® CARNATION® Evaporated Milk
1 cinnamon stick
1 lime peel (2 x 1/2-inch), green part only
1/2 teaspoon salt
1 cup granulated sugar
1/4 cup raisins
Ground cinnamon, fresh lime zest
Cooking Directions:
Combine water and rice in large saucepan. Let stand at room temperature for 2 hours.
Add evaporated milk, cinnamon stick, lime peel and salt to rice mixture; bring to a boil. Reduce heat to medium-low.
Stir in sugar and raisins. Continue cooking for 40 to 45 minutes, stirring occasionally until rice is tender and mixture is smooth. (Additional water may be needed if rice is not of desired texture.)
Discard cinnamon stick and lime peel.
Spoon into dessert cups. Cover; refrigerate for at least 2 hours.
Sprinkle with ground cinnamon and lime zest before serving.
Makes 6 servings.
Nutritional Information Per Serving (1/6 of recipe): Calories: 310 Calories from Fat: 50 Total Fat: 6 g Saturated Fat: 4.5 g Cholesterol: 30 mg Sodium: 230 mg Carbohydrates: 57 g Dietary Fiber: .5 g Sugars: 37 g Protein: 7 g.
Recipe and photograph are the property of Nestlé® and Meals.com, used with permission.