Custard à la Oregon Blueberries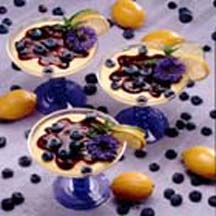 Combined with Oregon blueberries on a summer day, this custard provides a perfect flavor balance—and the color is striking!
Recipe Ingredients:
4 cups Oregon blueberries
4 cups skim milk
8 large egg yolks
1 cup granulated sugar
1/4 cup plus 2 tablespoons cornstarch
1 tablespoon lemon extract
Oregon Blueberry Coulis
Cooking Directions:
Scald milk by heating in heavy saucepan or double boiler until steam rises from the surface. For microwaves, heat milk 7 to 10 minutes in microwave-safe bowl until steam appears.
In a separate bowl, whisk egg yolks, sugar and cornstarch together. Add half the hot milk to egg mixture and whisk until smooth. Pour egg mixture back into remaining hot milk. If you used a microwave for the first steps, transfer all to a heavy saucepan or double boiler at this point. Cook custard mixture, stirring over medium heat. NEVER BOIL. Custard will thicken and coat spoon when done.
Remove from heat and stir in lemon extract.
Pour into heat-resistant bowl and allow to cool to room temperature, stirring to release steam. Cover and refrigerate.
When ready to serve, top with Oregon Blueberry Coulis and Oregon blueberries.
Makes 8 servings.
Nutritional Information Per Serving (1/8 of recipe): 275 calories, 7g protein, 6g fat, 46g carbohydrate, 11mg Vitamin C, 178mg calcium, 76mg sodium, 214 mg cholesterol, 11% protein, 18% fat, 71% carbohydrate.
Recipe and photograph courtesy of Oregon Blueberry Commission.