Fruit Filled Crêpes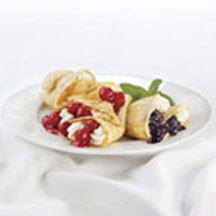 Feather-light crêpes wrap like a hug around a richly delicious fruit-and-cream-cheese filling. Make these crêpes for breakfast or dessert using your favorite flavor of pie filling or topping.
Recipe Ingredients:
Crêpes:
2 large eggs
1 cup milk
1/2 teaspoon salt
1 cup all-purpose flour
2 tablespoons melted butter
Filling:
12 ounces whipped cream cheese
1/3 cup powdered sugar
2 (21-ounce) cans any variety COMSTOCK® or WILDERNESS® More Fruit Filling or Topping
Cooking Directions:
For Crêpes: Beat eggs in blender until lightly frothy; add milk, salt, flour and melted butter. Blend until smooth. Let stand 5 minutes.
Heat a 7-inch crêpe pan or non-stick skillet over medium heat, spray with light coating of non stick spray. Pour approximately 1/8 cup of batter in center of pan,* tilt the pan so the batter spreads evenly on bottom of pan. Cook until edges lift easily from pan. Use spatula to flip crêpe over; heat one additional minute. Remove from pan, and repeat until all batter is used. Stack crêpes between layers of wax paper. (Crêpes can be made the day before and stored in an air tight container in refrigerator.)
For Filling: In small bowl, mix whipped cream cheese and powdered sugar until blended.
Spread 2 to 3 tablespoons of cream cheese mixture on to one half of each crêpe,** spoon 1/3 cup of canned fruit filling. Fold crêpe in quarters.
Makes 12 crêpes; 5 to 6 servings.
*Tip: you may adjust the thinness of the crêpes by adding more or less batter to pan. By using blender, you can pour directly from blender into skillet. Remember to lightly spray between each crêpe.
**Tip: For a more decorative touch, you can use a decorating bag and pipe the cream cheese mixture into the folds of the crêpe.
Recipe and photograph provided courtesy of Birds Eye Foods, Inc. Comstock® and Wilderness® are brands of Birds Eye Foods, Inc. Copyright ©2008.