Hook's Blue Cheese Cheesecake with
Port Wine Poached Pears, Port Caramel and Candied Walnuts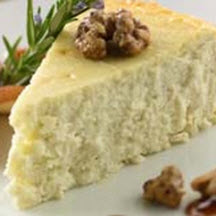 An inspirational dessert cheesecake that's truly a masterpiece. Recipe by Chef Mindy Segal.
Recipe Ingredients:
Port Wine Poached Pears:
1 bottle (750 ml) port wine
1 cup granulated sugar
1 sprig fresh rosemary
Rind of 1 orange
1 vanilla bean, split, scraped
6 medium pears (Bartlett, forelle or comice)
Sugared Walnuts:
1 tablespoon egg white
1/4 cup powdered sugar
Pinch kosher salt
1 cup walnuts
Cheesecake:
1 pound cream cheese, room temperature
10 ounces Wisconsin Hook's Blue cheese, room temperature, finely crumbled
3 eggs, room temperature
1/4 cup sour cream
2 tablespoons clover or orange honey
Pinch kosher salt
Pinch fresh cracked pepper
Port Caramel:
2 cups granulated sugar - divided use
3 1/2 ounces light corn syrup
1 cup heavy cream
1 cup reserved poaching liquid
Pinch salt
Pinch cracked pepper
Cooking Directions:
For Port Wine Poached Pears: In heavy sauce pot, combine all ingredients except pears; bring to a boil. Cook until reduced by a quarter. Meanwhile, peel pears and add peels to poaching liquid. Cut pears in half and core. Strain poaching liquid and add pears. Bring to a simmer and poach pears until tender. Place pears and liquid in opaque container. Cover with plastic and let stand at room temperature overnight. Reserve 1 cup poaching liquid for port wine caramel.
For Sugared Walnuts: Heat oven to 350°F (175°C). Line baking sheet with parchment paper. In small bowl, mix all ingredients except walnuts. Add walnuts and stir to coat. Spread in single layer on baking sheet. Bake 12 to 15 minutes or until golden brown. Break into pieces. Set aside.
For Cheesecake: Heat oven to 250°F (120°C). Spray 8-inch spring form pan with cooking spray. Line bottom with parchment paper; spray again. In large bowl, beat cream cheese until smooth. Add blue cheese; beat until creamy. Add eggs one at a time, beating well after each addition. Scrape bowl. Add sour cream, honey, salt and pepper. Beat until combined.
Pour into pan. Bake 40 to 45 minutes or until set and knife inserted near center comes out clean. Cool to room temperature in pan.
For Port Caramel: In heavy sauce pot, combine 1 cup sugar and the corn syrup. Bring to a boil, stirring until sugar is dissolved. Cook at slow rolling boil until dark amber. In another pot, bring cream and reserved poaching liquid just to a boil; keep warm. When sugar is amber, add remaining sugar, 1/4 cup at a time, mixing well after each addition. Stir in cream mixture slowly, allowing mixture to reduce after each addition. Cook until the consistency of thick syrup, stirring frequently, about 10 minutes. Season with salt and pepper.
For Final Preparation: Cut cheesecake into wedges. Serve on plate with poached pear, port wine caramel and sugared walnuts.
Makes 6 to 8 servings.
Recipe and photograph provided courtesy of Wisconsin Milk Marketing Board, Inc.