Meringue-Capped Kiwi Custard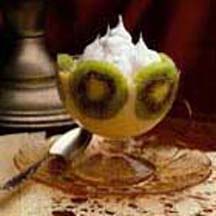 A delightfully special dessert that's as impressive to look at as it is scrumptiously delicious!
Recipe Ingredients:
1/3 cup plus 3/4 cup granulated sugar - divided use
1 tablespoon cornstarch
1 cup skim or low-fat milk
3 large eggs, separated
1/4 teaspoon vanilla extract
1 tablespoon water
1/4 teaspoon cream of tartar
6 kiwi fruit, peeled and sliced
Cooking Directions:
In medium saucepan, stir together 1/3 cup of the sugar and cornstarch. Stir in milk. Cook over medium heat, stirring constantly, until mixture thickens and boils. Add egg yolks, one at a time, beating well after each addition. Reduce heat to low and simmer 1 minute. Remove from heat and stir in vanilla. Cover and refrigerate until thoroughly chilled.
In heavy saucepan or double boiler, combine egg whites with 3/4 cup of the remaining suger, water and cream of tartar. Cook over low heat, beating with portable mixer on LOW speed until whites reach 160°F (70°C). Pour into large bowl. Beat on high speed until whites stand in soft peaks.
To serve, line each of 6 (6 to 8-ounce) dessert dishes with 1/2 cup kiwi slices. Spoon in 1/4 cup custard and dollop with 1/2 cup meringue.
Makes 6 servings.
Recipe and photograph provided courtesy of the American Egg Board.