Turtle Cheesecake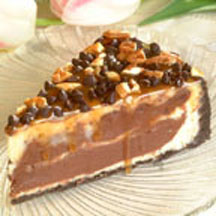 This family favorite is a marbled cheesecake topped with a decadent combination of pecans, chocolate morsels and caramel and chocolate syrups.
A finalist in the 2001 Nestlé Toll House "Share the Very Best" recipe contest, this dessert was submitted by Audra Burtch of Chandler, Arizona.
Recipe Ingredients:
Crust:
1 3/4 cups chocolate graham cracker crumbs
1/3 cup butter or margarine, melted
Filling:
3 (8-ounce) packages cream cheese, softened
1 (14-ounce) can NESTLÉ® CARNATION® Sweetened Condensed Milk
1/2 cup granulated sugar
3 large eggs
3 tablespoons lime juice
1 tablespoon vanilla extract
1 1/2 cups (9-ounces) NESTLÉ TOLL HOUSE Semi-Sweet Chocolate Morsels
2 tablespoons Chocolate Flavor NESTLÉ NESQUIK Syrup
2 tablespoons caramel syrup or ice cream topping
1/2 cup coarsely chopped pecans
1/4 cup NESTLÉ® TOLL HOUSE® Semi-Sweet Chocolate Mini Morsels
Cooking Directions:
Preheat oven to 300°F (150°C). Grease 9-inch springform pan.
For Crust: Combine crumbs and butter in medium bowl. Press onto bottom and 1-inch up side of prepared pan.
For Filling: Beat cream cheese and sweetened condensed milk in large mixer bowl until smooth. Add sugar, eggs, lime juice and vanilla extract; beat until combined. Microwave morsels in medium, microwave-safe bowl on HIGH (100%) power for 1 minute; stir. Morsels may retain some of their shape. If necessary, microwave at additional 10 to 15-second intervals, stirring just until morsels are melted. Stir 2 cups of cheesecake batter into melted morsels; mix well. Alternately spoon batters into crust, beginning and ending with yellow batter.
Bake for 1 hour 10 to 15 minutes or until edge is set and center moves slightly. Cool in pan on wire rack for 10 minutes; run knife around edge of cheesecake. Cool completely. Drizzle Nesquik and caramel syrup over cheesecake. Sprinkle with pecans and mini morsels. Refrigerate for several hours or overnight. Remove side of pan.
Makes 12 servings.
Recipe and photograph are the property of Nestlé® and Meals.com, used with permission.