Bread and Butter Pickles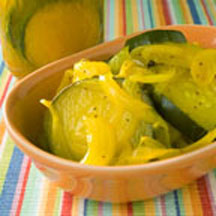 These crisp, sweet pickles are a welcome accompaniment to sandwiches and salads. When you've eaten the pickles, use the pickling liquid to add zing to dressing for potato or pasta salad.
Recipe Ingredients:
2 pounds (4 to 5-inch) cucumbers, cut into 1/4-inch slices
1 medium onion, thinly sliced
3 tablespoons kosher salt
2 1/2 cups white vinegar
1 1/4 cups Splenda® Granulated No Calorie Sweetener
1 tablespoon whole mustard seeds
1 teaspoon celery seeds
1 teaspoon ground turmeric
1/2 teaspoon whole cloves
Cooking Directions:
Place cucumbers and onions in a large non-reactive bowl. Sprinkle with the salt and toss to combine. Let stand at room temperature 2 hours. Drain the vegetables, rinse and drain again. Blot dry using paper towels.
Wash jars and lids in hot soapy water; rinse with warm water. Fill boiling-water canner half full with water; add jars and water to cover. Bring water to a boil, reduce heat and simmer. Place lids in water to cover in a small saucepan; bring water to a simmer. Simmer until ready to use. Remove and drain jars and lids, one at a time, as needed for filling.
Bring vinegar, Splenda® Granulated Sweetener, mustard seeds, celery seeds, turmeric, and cloves to a boil over medium-high heat in a large Dutch oven. Add the cucumbers and onions and return to a boil.
Pack hot vegetables immediately into prepared jars using a slotted spoon, filling to within 1/4-inch of tops. Ladle pickling liquid into jars, filling to within 1/4-inch of tops. Wipe jar rims and threads. Cover with 2-piece lids. Screw bands tightly. Place jars on rack in canner. (Water must cover jars by 1 to 2 inches. Add boiling water, if necessary.) Cover; bring water to gentle boil.
Process 15 minutes. Remove jars and place upright on towel to cool completely. After jars cool, check seals by pressing center of lid with finger. (If lid springs back, lid is not sealed and refrigeration is necessary.) Store in a cool, dark place for up to 1 year. Once opened, store refrigerated.
Makes 24 servings.
Nutritional Information Per Serving (1/24 of recipe): Calories: 10; Calories from Fat: 0; Total Fat: 0g; Saturated Fat: 0g; Cholesterol: 0mg; Sodium: 710mg; Total Carbs: 2g; Dietary Fiber: 0g; Sugars: 1g; Protein: 0g.
Exchanges Per Serving: 1/2 Vegetable.
Recipe and photograph courtesy of Splenda, Inc. Splenda® is a no-calorie sweetener made from sugar that is suitable for diabetics. For more information regarding this product, please call 1-800-777-5363 or visit their website at www.splenda.com.