Dulce de Leche Sandwich Cookies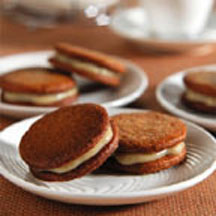 Homemade dulce de leche is sandwiched between light cinnamon scented cookie for these sweet treats. Recipe contest submission by Germon Mosquera of San Antonio, Texas.
Recipe Ingredients:
Dulce de Leche:
1 1/2 cups unsweetened soy milk
1/4 cup Splenda® Brown Sugar Blend
1/2 cup Splenda® Granulated No Calorie Sweetener
1 tablespoon vanilla extract
1/4 teaspoon baking powder
Cookies:
3/4 cup all-purpose flour
1 teaspoon ground cinnamon
1 cup Splenda® Granulated No Calorie Sweetener
1/4 cup Splenda® Brown Sugar Blend
1/4 cup chilled margarine
2 tablespoons unsweetened soy milk
Cooking Directions:
To prepare Dulce de Leche: Heat soy milk over medium heat until it comes to a simmer.
Combine remaining ingredients and whisk into soy milk and continue to cook on simmer, stirring occasionally, until liquid is reduced and desired caramel-like thickness is achieved. Remove from heat and set aside. Keep warm.
To prepare Cookies: Preheat oven to 375°F (190°C). Line cookie sheets with parchment paper.
Sift flour and cinnamon into a medium sized mixing bowl. Mix in Splenda® Granulated Sweetener and Splenda® Brown Sugar Blend.
Rub margarine into flour mixture until crumbly. Add soy milk and mix until mixture forms a dough. Roll dough out on a floured surface to 1/8-inch thick. Cut dough into 2-inch wide circles using a round cookie cutter.
Place rounds on an ungreased cookie lined with parchment paper.
Bake for approximately 20 minutes or until lightly golden brown on the edges. Allow cookies to cool for 3 minutes.
Spread each cookie with 1 tablespoon of Dulce de Leche. Sandwich two cookies together. Serve warm.
Makes 5 servings.
Nutritional Information Per Serving (1 sandwich cookie): Calories 300 | Calories from Fat 100 | Fat 11g (sat 2.0g) | Cholesterol 0mg | Sodium 140mg | Carbohydrates 42g | Fiber 2g | Sugars 26g | Protein 4g.
Recipe and photograph courtesy of Splenda, Inc. Splenda® is a no-calorie sweetener made from sugar that is suitable for diabetics. For more information regarding this product, please call 1-800-777-5363 or visit their website at www.splenda.com.