Lorena Garcia's Fresh Mango Tres Leches Cake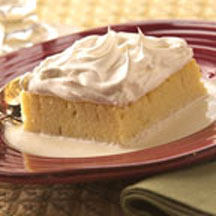 Traditional tres leches cake is updated to a low sugar version. Tropical fruit and citrus sauce make this dessert extra special.
Recipe Ingredients:
Cake:
3/4 cup Splenda® Sugar Blend for Baking
2 cups all-purpose flour
2 teaspoons baking soda
1/2 cup skim milk
1 teaspoon vanilla extract
4 large eggs, separated
2 large egg whites
1 cup mango slices
Cream:
1 (12-ounce) can evaporated milk
1 (14-ounce) can condensed milk
1 pint fat free half-and-half
2 tablespoons orange juice
1 tablespoon Splenda® Sugar Blend for Baking
Optional: Garnish with 1 pint reduced fat whipped cream and coconut shavings
Cooking Directions:
Preheat oven to 350°F (175°C). Prepare a 9-inch spring form cake pan with nonstick cooking spray.
Blend the flour, Splenda® Sugar Blend, and baking soda together in a bowl and set aside.
Blend the 4 egg yolks and vanilla extract in a mixing bowl. Mix at medium high speed until eggs are pale in color.
Blend the 6 egg whites until soft peak.
Mix all of the ingredients together.
Pour mixture into the pan and place in the oven for 35 to 45 minutes or until the cake tests clean. Set aside and let cool.
Make Cream: blend the evaporated milk, condensed milk, half-and-half, and orange juice in a mixing bowl.
Place the mango slices at the bottom of a deep container. Place the cake on top and add the cream mixture over. Leave the cake submerged for at least 30 minutes until the liquid is absorbed in the refrigerator. The servings should have mango slices at the bottom; about half the liquid will remain in the container.
Decorate the Tres Leches with the whipped cream and coconut shavings. Serve immediately.
Makes 10 servings.
Nutritional Information Per Serving (1/10 of recipe): 430; Calories from Fat: 80; Total Fat: 8g; Saturated Fat: 4g; Cholesterol: 115mg; Sodium: 430mg; Total Carbs: 69g; Dietary Fiber: 1g; Sugars: 45g; Protein: 13g.
Exchanges Per Serving: 1/2 Medium Fat Meat, 3 1/2 Starches, 1 1/2 Fats.
Recipe and photograph courtesy of Splenda, Inc. Splenda® is a no-calorie sweetener made from sugar that is suitable for diabetics. For more information regarding this product, please call 1-800-777-5363 or visit their website at www.splenda.com.