Peanut Butter and Jelly Cookies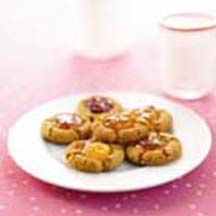 Who would believe you can get such a delectable cookie out of such a simple process and with so few ingredients? (That's right, there's no flour!) The not-too-sweet, deep nutty flavor — topped with a touch of fruit — is perfect for kids young and old.
Recipe Ingredients:
3/4 cup granular sugar substitute
1 large egg
1 teaspoon vanilla extract
1 cup creamy trans-fat-free peanut butter
1 teaspoon baking soda
1/4 cup sugar-free jam, any flavor
Cooking Directions:
Preheat oven to 350°F (175°c). Line a baking sheet with parchment paper.
Mix sugar substitute, egg, and vanilla together with an electric mixer on low for 3 minutes. Add peanut butter and baking soda. Mix on medium until dough comes together, about 30 seconds.
Form dough into 24 (2 teaspoon-sized) balls and place on baking sheet 1-inch apart. Gently press your thumb into the center of each to make an indentation. Fill each indentation with 1/2 teaspoon jam.
Bake until lightly browned on the bottom, 12 to 14 minutes. Transfer to a wire rack to cool completely.
Makes 12 (2 cookie) servings.
Nutritional Information Per Serving (2 cookies): 140 calories, 11 g fat, 2.5 g saturated fat, 6 g protein, 7 g carbohydrate, 1 g dietary fiber, 210 mg sodium
Recipe and photograph Source: This recipe is from the book The South Beach Diet Quick & Easy Cookbook by Arthur Agatston, MD; Published by Rodale; October 2005; 1-59486-292-3; Copyright © 2005 Arthur Agatston, MD.