Shrimp and Celery Salad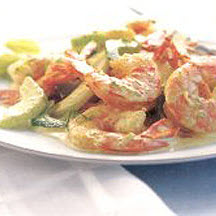 Fresh lime, curry powder, and creamy sour cream make a zesty dressing for this refreshing summer salad. Try spooning it onto toasted whole-grain bread for a delicious open-faced sandwich.
Recipe Ingredients:
1/2 cup reduced-fat sour cream
1/4 cup mayonnaise
2 tablespoons fresh lime juice
1 tablespoon grated lime zest
11/2 teaspoons curry powder
1/4 teaspoon salt
1 1/2 pounds peeled, deveined, and cooked medium fresh or frozen shrimp (thaw if frozen)
4 large celery stalks, thinly sliced
1 large cucumber, peeled, seeded, and thinly sliced
Cooking Directions:
Whisk together sour cream, mayonnaise, lime juice, lime zest, curry powder, and salt in a large bowl. Add shrimp, celery, and cucumber; toss gently to coat. Refrigerate until ready to serve.
Makes 4 (1 1/2 cups) servings.
Nutritional Information Per Serving (1/4 of recipe; 1 1/2 cups): 330 calories, 17 g fat, 4.5 g saturated fat, 37 g protein, 6 g carbohydrate, 2 g dietary fiber, 670 mg sodium.
Recipe and Photograph Source: This recipe is from the book The South Beach Diet Quick & Easy Cookbook by Arthur Agatston, MD; Published by Rodale; October 2005; 1-59486-292-3; Copyright © 2005 Arthur Agatston, MD. Used with permission.