Sweet Sesame Chicken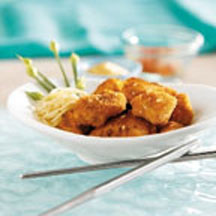 Golden, crispy pieces of sesame seed coated chicken make a wonderful addition to a noodle salad.
Recipe Ingredients:
1/2 cup raw sesame seeds
1/8 cup sesame oil
1 1/2 cups unflavored bread crumbs
1/8 teaspoon salt
1/8 teaspoon ground black pepper
1/8 teaspoon dry mustard
1/8 teaspoon nutmeg
1/4 cup Splenda® Brown Sugar Blend
1/4 cup sesame oil
1/4 cup vegetable oil
1 1/2 pounds chicken breast, cubed
Cooking Directions:
Combine the raw sesame seeds with the 1/8 cup of sesame oil and microwave for 2 minutes.
Mix the roasted sesame seeds with the bread crumbs, salt, pepper, dry mustard, nutmeg and Splenda® Brown Sugar Blend. Set aside.
Heat a large frying pan or wok with the 1/4 cup of sesame oil and the vegetable oil.
Dredge the chicken pieces in the bread crumb mixture so that they are evenly coated.
Drop the chicken into the hot pan and cook over medium heat.
Cook for 5 to 6 minutes or until golden brown on each side.
Remove from the oil with a slotted spoon and drain on paper towels. Serve immediately with rice, noodles or vegetables and assorted mustards for dipping.
Makes 6 servings.
Note: Recipe contest submission by: Rose Marie K. from Freehold, New Jersey.
Nutritional Information Per Serving (1/6 of recipe): Calories: 540; Calories from Fat: 290; Total Fat: 32g; Saturated Fat: 5g; Cholesterol: 65mg; Sodium: 360mg; Total Carbs: 30g; Dietary Fiber: 2g; Sugars: 9g; Protein: 32g.
Exchanges Per Serving: 2 Starches, 4 Lean Meats, 2 Fats.
Recipe and photograph courtesy of Splenda, Inc. Splenda® is a no-calorie sweetener made from sugar that is suitable for diabetics. For more information regarding this product, please call 1-800-777-5363 or visit their website at www.splenda.com.