Beef Sausage Gravy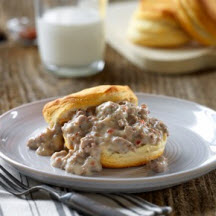 Whether you serve this homemade beef sausage gravy over biscuits, toasted English muffins or steamed asparagus, it's sure to satisfy the heartiest of appetites anytime of the day...or night!
This recipe is an excellent source of protein, niacin, vitamin B12, selenium and zinc; and a good source of vitamin B6, iron and choline.
Recipe Ingredients:
Basic Country Beef Breakfast Sausage:
1 pound ground beef (96% lean)
2 teaspoons chopped fresh sage or 1/2 teaspoon rubbed sage
1 teaspoon garlic powder
1 teaspoon onion powder
1/2 teaspoon salt
1/4 to 1/2 teaspoon crushed red pepper
2 tablespoons olive or canola oil
1/4 cup all-purpose flour
3 cups skim milk
1/2 teaspoon salt
1/4 teaspoon ground black pepper
Warmed buttermilk biscuits, toasted English muffins or steamed asparagus for accompaniment (optional)
Cooking Directions:
Prepare Basic Country Beef Breakfast Sausage: Combine ground beef, sage, garlic powder, onion powder, salt and crushed red pepper in large bowl, mixing lightly but thoroughly.
Heat large nonstick skillet over medium high heat until hot. Add beef sausage mixture; cook 8 to 10 minutes, breaking into 3/4-inch crumbles and stirring occasionally. Remove from skillet; keep warm.
Heat oil in same skillet over medium heat. Stir in flour; cook and stir 4 minutes. Stir in milk; bring to a boil, whisking constantly. Reduce heat; simmer 2 to 3 minutes or until sauce thickens slightly, stirring occasionally. Stir in Breakfast Sausage, salt and pepper. Cook 1 to 2 minutes or until beef is heated through, stirring occasionally.
Serve Beef Sausage Gravy over desired accompaniments.
Makes 4 servings.
Test Kitchen Tips:
Cooking times are for fresh or thoroughly thawed ground beef.
Ground beef should be cooked to an internal temperature of 160°F (71.1°C).
Color is not a reliable indicator of ground beef doneness.
Nutritional Information Per Serving (1/4 of recipe without accompaniments): 228 calories; 11 g fat (3 g saturated fat; 5 g monounsaturated fat); 65 mg cholesterol; 647 mg sodium; 8 g carbohydrate; 0.5 g fiber; 23 g protein; 5.9 mg niacin; 0.3 mg vitamin B6; 2.2 mcg vitamin B12; 3.1 mg iron; 20.5 mcg selenium; 5.4 mg zinc; 82.7 mg choline.
Recipe and photograph courtesy of The Beef Checkoff.