Belize Beef on Spiced Potatoes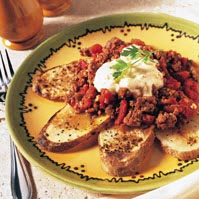 A hot and spicy tomato and ground beef sauce is served atop jerk-spiced, crispy broiled potato slices.
This recipe was a 2001 National Beef Cook-Off category winner.
Recipe Ingredients:
1 pound lean ground beef
1 (14.5-ounce) can Del Monte Petite Cut Tomatoes with Zesty Jalapeños
1 1/2 teaspoons jarred minced garlic
1 teaspoon Caribbean jerk seasoning
2 large unpeeled baking potatoes (8 to 10 ounces each)
Salt, pepper and Caribbean jerk seasoning, to taste
Topping:
1/2 cup plain yogurt
3/4 teaspoon jarred minced garlic
1/2 teaspoon Caribbean jerk seasoning
Cooking Directions:
Brown ground beef in large nonstick skillet over medium heat 8 to 10 minutes, or until beef is not pink, breaking up into small crumbles. Pour off drippings. Set aside 1 tablespoon of tomatoes. Add remaining tomatoes, 1 1/2 teaspoons garlic and 1 teaspoon jerk seasoning to beef; bring to a boil. Reduce heat; cover and simmer 8 minutes, stirring occasionally. Uncover skillet; continue simmering 7 minutes, stirring occasionally. Season with salt and pepper.
Meanwhile cut potatoes lengthwise into 1/4-inch thick slices; pierce in several places with fork. Dip in cold water; sprinkle lightly with salt, pepper and jerk seasoning. Place in single layer on nonstick baking pan. Broil 3 to 6 inches from heat 10 to 12 minutes or until tender and lightly browned, turning once.
Combine topping ingredients and reserved 1 tablespoon tomatoes in small bowl; season with salt and pepper.
Spoon beef mixture over potatoes. Serve with topping.
Makes 4 servings.
Recipe and photograph courtesy of The Beef Checkoff.