Creamy Double Decker Fudge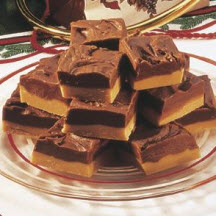 An easy, fool-proof double decker fudge made with a favorite flavor pairing—chocolate and peanut butter.
Recipe Ingredients:
1 cup REESE'S Peanut Butter Chips
1 (14-ounce) can sweetened condensed milk - divided use
1 teaspoon vanilla extract - divided use
1 cup HERSHEY'S Semi-Sweet Chocolate Chips
Cooking Directions:
Line 8-inch square pan with foil.
Place peanut butter chips and 2/3 cup sweetened condensed milk in small microwave-safe bowl. Microwave at HIGH (100%) 1 to 1 1/2 minutes, stirring after 1 minute, until chips are melted and mixture is smooth when stirred.
Stir in 1/2 teaspoon vanilla; spread evenly into prepared pan.
Place remaining sweetened condensed milk and chocolate chips in another small microwave-safe bowl; repeat above microwave procedure.
Stir in remaining 1/2 teaspoon vanilla; spread evenly over peanut butter layer.
Cover; refrigerate until firm. Remove from pan; place on cutting board. Peel off foil. Cut into squares. Store tightly covered in refrigerator.
Makes about 4 dozen pieces or 1 1/2 pounds.
Note: For best results, do not double this recipe.
Recipe and photograph courtesy of the Hershey Kitchens, and reprinted with permission of The Hershey Company. © The Hershey Company.