Chocolate Maple Nut Bars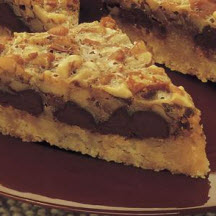 These scrumptious bars feature a buttery shortbread crust sprinkled with chocolate chips, topped with a maple nut mixture and baked until golden.
Recipe Ingredients:
1 1/2 cups all-purpose flour
2/3 cup granulated sugar
1/2 teaspoon salt
3/4 cup cold butter or margarine
2 large eggs
1 (14-ounce) can sweetened condensed milk
1 1/2 teaspoons maple flavoring
2 cups chopped nuts
1 cup HERSHEY'S Semi-Sweet Chocolate Chips
Cooking Directions:
Preheat oven to 350°F (175°C).
In large bowl, stir together flour, sugar and salt; cut in butter until crumbly. Stir in 1 beaten egg. Press mixture evenly onto bottom of ungreased 13 x 9 x 2-inch baking pan.
Bake 25 minutes.
In medium bowl, beat sweetened condensed milk, remaining 1 egg and maple flavoring; stir in nuts. Set aside.
Sprinkle chocolate chips evenly over prepared crust.
Gently spread nut mixture evenly over chocolate.
Return to oven. Bake 25 minutes or until golden. Cool completely in pan on wire rack.
Cut into bars. Store tightly covered at room temperature.
Makes 24 to 36 bars.
Recipe and photograph courtesy of the Hershey Kitchens, and reprinted with permission of The Hershey Company. © The Hershey Company.