Raspberry and Chocolate Streusel Bars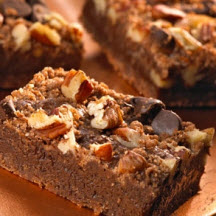 Sorry to say, Hershey's no longer makes Raspberry Creme Filled Baking Pieces, however you can substitute with chocolate chips or other flavored chips to make this recipe.
Recipe Ingredients:
2 1/2 cups all-purpose flour
1 cup granulated sugar
3/4 cup chopped pecans
1 large egg, beaten
1 cup cold butter or margarine
1 (12-ounce) jar seedless red raspberry jam
1 1/3 cups (8-ounce package) HERSHEY'S Raspberry Creme Filled Baking Pieces
Cooking Directions:
Preheat oven to 350°F (175°C). Grease 13 x 9 x 2-inch baking pan.
Stir together flour, sugar, pecans and egg in large bowl. Cut in butter with pastry blender or fork until mixture resembles coarse crumbs; set aside 1 1/2 cups crumb mixture.
Press remaining crumb mixture on bottom of prepared pan.
Stir jam to soften; carefully spread over crumb mixture. Sprinkle with baking pieces. Crumble remaining crumb mixture evenly over top.
Bake 40 to 45 minutes or until lightly browned. Cool completely in pan on wire rack; cut into bars.
Makes 36 bars.
Recipe and photograph courtesy of the Hershey Kitchens, and reprinted with permission of The Hershey Company. © The Hershey Company.