Reese's Peanut Butter and Milk Chocolate Chip Brownie Bars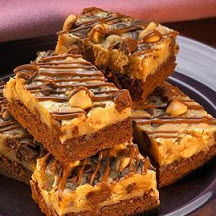 Chocolate brownies topped with a peanut butter filling studded with peanut butter and milk chocolate chips and a decorative drizzle.
Recipe Ingredients:
6 tablespoons butter or margarine, melted
1 1/4 cups granulated sugar
2 teaspoons vanilla extract - divided use
3 large eggs - divided use
1 cup plus 2 tablespoons all-purpose flour
1/3 cup HERSHEY'S Cocoa
1/2 teaspoon baking powder
1/2 teaspoon salt
1 (14-ounce) can sweetened condensed milk (not evaporated milk)
1/2 cup REESE'S Creamy Peanut Butter
1 3/4 cups (11-ounce package) REESE'S Peanut Butter and Milk Chocolate Chips - divided use
3/4 teaspoon vegetable shortening
Cooking Directions:
Preheat oven to 350°F (175°C). Grease 13 x 9 x 2-inch baking pan.
Stir together butter, sugar and 1 teaspoon vanilla in large bowl. Add 2 eggs; stir until blended.
Stir together flour, cocoa, baking powder and salt. Add to egg mixture, stirring until blended.
Spread in prepared pan. Bake 20 minutes.
Meanwhile, stir together sweetened condensed milk, peanut butter, remaining egg and remaining 1 teaspoon vanilla extract. Pour evenly over hot brownie.
Set aside 2 tablespoons chips; sprinkle remaining chips over peanut butter mixture.
Return to oven; continue baking 20 to 25 minutes or until peanut butter layer is set and edges begin to brown. Cool completely in pan on wire rack.
Place reserved chips and shortening in small microwave-safe bowl. Microwave at HIGH (100%) 30 seconds; stir. If necessay, microwave at HIGH an additional 15 seconds at a time, stirring after each heating, until chips are melted and mixture is smooth when stirred.
Drizzle over top of bars. When drizzle is firm, cut into bars. Store loosely covered at room temperature.
Makes 24 to 36 bars.
Recipe and photograph courtesy of the Hershey Kitchens, and reprinted with permission of The Hershey Company. © The Hershey Company.