Hershey's Special Dark Chips and Macadamia Nut Fudge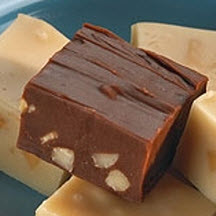 There's nutty tropical deliciousness in every bite of this dark chocolate fudge loaded with macadamia nuts.
Recipe Ingredients:
1 3/4 cups granulated sugar
1 (7-ounce) jar marshmallow creme
3/4 cup evaporated milk
1/4 cup butter
2 cups (12-ounce package) HERSHEY'S SPECIAL DARK
1 cup MAUNA LOA Macadamia Nut Baking Pieces
1 teaspoon vanilla extract
Cooking Directions:
Line 8-inch square pan with foil, extending foil over edges of pan.
Combine sugar, marshmallow creme, evaporated milk and butter in heavy 3-quart saucepan. Cook over medium heat, stirring constantly, until mixture comes to a full boil; boil and stir 5 minutes.
Remove from heat. Gradually add chips and nuts, stirring until chips are melted. Stir in vanilla.
Pour into prepared pan; cool until set.
Remove from pan; place on cutting board. Peel off foil. Cut into squares. Store tightly covered in cool, dry place.
Makes about 5 dozen pieces or 2 1/4 pounds candy.
Note: For best results, do not double this recipe.
Recipe courtesy of the Hershey Kitchens, and reprinted with permission of The Hershey Company. © The Hershey Company.