Pomegranate Jelly Almond Thumbprints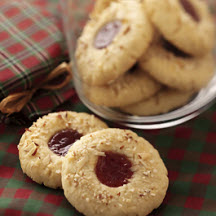 Glistening, jewel-like pomegranate jelly is the crowning glory of these almond thumbprint cookies.
Recipe Ingredients:
2 cups all-purpose flour
1/2 teaspoon salt
1 1/2 cup slivered almonds (6 ounces)
2/3 cup granulated sugar - divided use
1 cup (2 sticks) unsalted butter, softened
1 1/2 teaspoons pure vanilla extract
2 large eggs, separated
1/3 cup sliced or slivered almonds, finely chopped, for garnish, optional
3/4 cup pomegranate jelly*
Confectioners' (powdered) sugar, for garnish, optional
Cooking Directions:
Preheat oven to 350°F (175°C). Line baking sheets with parchment paper or leave ungreased.
Combine flour and salt in a bowl; set aside.
Combine almonds and 1/3 cup of sugar in a food processor fitted with a metal blade. Pulse until finely ground. (Be careful not to grind to a paste).
Combine butter and remaining sugar in a medium bowl. Cream together until light and fluffy. Add ground almond and sugar mixture. Mix to combine. Add vanilla and egg yolks. Mix to combine. Mix in flour.
Roll dough into walnut-size balls and place 2 inches apart on baking sheets. Dip your thumbs in flour and use to make a deep indentation in center of each cookie.
Whisk egg whites to loosen them and then brush outside of each cookie with egg white. Scatter a few chopped almonds on outer edge of each cookie if desired. Fill each center with 1/2 teaspoon of jelly.
Bake until edges are golden brown, 15 to 18 minutes. Remove from oven. If needed, immediately add another 1/4 teaspoon of jelly to each cookie. Let stand for 3 to 4 minutes.
Transfer to cooling racks with a thin metal spatula. Dust with confectioners' sugar if desired.
Makes about 4 dozen.
*Pomegranate jelly may be found in specialty food stores.
Recipe and photograph provided courtesy of Wisconsin Milk Marketing Board, Inc.