Spooktacular Haunted House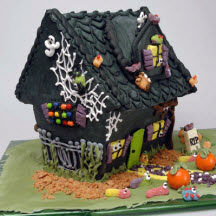 This is a fun Halloween activity to work on with the kids. When done, put it on display at your Halloween parties or for your trick-or-treaters to admire. You will need templates for the walls and roof to make this house, try searching online to download a haunted house template for free, or create your own templates.
Recipe Ingredients:
16 x 20-inch piece of cardboard for base, covered in colored plastic wrap
2 (16.5-ounce) packages NESTLÉ® TOLL HOUSE® Refrigerated Sugar Cookie Bar Dough
Royal icing (recipe follows)
Wooden picks
1 container black paste food coloring (available at local party supply stores) or gel food coloring
4 heavy-duty plastic storage bags for piping
WONKA LAFFY TAFFY
WONKA Everlasting GOBSTOPPERS
WONKA RUNTS
Spooky WONKA NERDS
Various sized paintbrushes for decorating
NESTLÉ BUTTERFINGER Fun Size Candy Bars or NESTLÉ BUTTERFINGER Crisp Bars, crushed
NESTLÉ CRUNCH Fun Size Candy Bars
Cooking Directions:
Roll out cookie dough on floured surface with rolling pin. If it is a warm day, you may wish to freeze dough for about 15 minutes before beginning to work with it. Roll to approximately 1/4-inch thickness. Place each pattern piece on the dough and cut out with a knife around the pattern. Transfer pieces to baking sheet(s) with a large spatula. Bake for 8 to 12 minutes or until light golden brown. Smaller pieces will bake faster than larger pieces. Remove from oven; cool completely on wire rack(s).
Prepare royal icing.
Place half the icing in medium bowl. Place remaining icing in airtight container to keep it from drying out. Use wooden pick to transfer black paste food coloring into icing; stir to mix well. Continue to add enough food coloring until you get a nice rich black color. With a spatula spread a thin layer of black icing over all pieces of the house and allow to dry for about 30 minutes or until hard. Place remaining black icing into heavy-duty plastic storage bag; cut tiny corner from bag.
Place some remaining white icing into heavy-duty plastic storage bag; cut tiny corner from bag. Pipe windows with white icing on each of the sides and ends of the house. Have fun creating wacky-shaped windows. Allow these to dry. Once dry, roll out some Laffy Taffy with a rolling pin and cut into shutter shapes. Have fun with the shapes, they do not need to be perfectly rectangular. Make sure that you have enough pieces for each window to have two shutters. Use white icing as glue. Pipe icing next to each window, one shutter at a time and place a piece of Laffy Taffy on top to glue down. Or use the Laffy Taffy for the windows; pipe black icing over the Laffy Taffy to create windowpanes.
Refill storage bags as necessary with white or black icing. Pipe a row of black icing down the end of each of the short side pieces of the house. Place next to the end pieces to begin to form the house. Assemble all four sides of the house on prepared cardboard base and allow to dry.
Secure house to the cardboard base with icing to keep from sliding by piping icing around the exterior of the house at the base. Allow to dry. Once dried, assemble the roof. Pipe icing down the sides of roof pieces and the top of the short sides of the base. Place these over the base. Use a line of piping at the top of the roof to hold together. Place a glass on the inside of the house (it will not show) and on each side of the house to rest the roof pieces onto while they dry.
Assemble the small gable window in the same way that the roof was just assembled. Pipe icing around the base and place on roof.
Attach candies to house using white icing as glue. Use Gobstoppers for large pumpkins, Runts to make colorful windows and Spooky Nerds for walkway. Place some icing in a cup and add a little water to make a paint-like consistency; use paintbrushes to paint spiderwebs, shingles and siding on the house. Sprinkle crushed Butterfinger around house to create dirt. Paint white icing on Crunch bars to create tombstones. Pipe scary words like "BOO" or "RIP" on tombstones. Use icing to glue tombstones to board. Have fun and make it as spooky as you want.
For Royal Icing: Combine 8 cups (2 pound bag) sifted powdered sugar, 3/4 cup warm water and 6 tablespoons meringue powder (available at specialty cooking stores) in large mixer bowl; beat for 5 minutes or until stiff peaks form.
Makes 1 haunted house.
Recipe and photograph are the property of Nestlé® and Meals.com, used with permission.