Asparagus Spinach Pistachio Pesto Pasta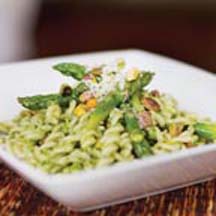 Research has shown that pistachios can raise the level of antioxidants in your blood, reducing the risk of heart disease by lowering the level of oxidized-LDL (bad) cholesterol.
Recipe Ingredients:
1 pound asparagus, steamed
1/4 cup pistachios
1/4 cup fresh spinach, packed
1 clove garlic
1/4 cup freshly grated Parmesan cheese
2 tablespoons olive oil
1 teaspoon lemon juice
1 (12-ounce) package whole wheat pasta
Cooking Directions:
Bring a large pot of salted water to a boil. When ready, add asparagus and cook for 3 minutes. Remove from the water and shock in a bowl of ice water. Drain and then place on a cutting board. Slice off the tips and set aside. Roughly chop the rest.
Add a cup of the chopped asparagus to a food processor along with the spinach, garlic, 2 tablespoons of the pistachios, Parmesan cheese, olive oil, lemon juice, and a pinch of salt. Blend until it is a paste; this is your pesto.
Add the pasta to the pot of boiling water. Cook according to the directions on the box. Save a 1/4 cup of the pasta water. Drain the pasta when done, and return to the still hot pot. Add 1 cup of the pesto and half of the pasta water. Stir well. If it is too dry, add some more water.
Chop the remaining pistachios. Serve the pasta and garnish with the pistachios, and more grated Parmesan cheese. Season with salt and pepper to taste.
Makes 4 servings.
Nutritional Information Per Serving (1/4 of recipe): Calories 153, Carbohydrates 7g, Fat 12g, Saturated Fat 2g, Protein 4g, Cholesterol 4mg, Dietary Fiber 3g, Sodium 69mg.
Recipe and photograph provided courtesy of Western Pistachio Association, ALL RIGHTS RESERVED © 2007 Rodale; through ECES, Inc., Electronic Color Editorial Services.