Barley-Stuffed Peppers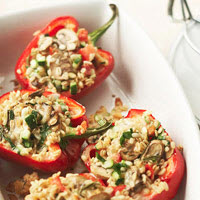 These stuffed peppers use barley filling instead of Mom's old-fashioned hamburger stuffing—and they're just as comforting.
Recipe Ingredients:
1 cup reduced-sodium vegetable broth
1 cup sliced fresh mushrooms
2/3 cup quick-cooking barley
2 large red, yellow, and/or green sweet peppers (about 1 pound)
1 egg, beaten
3/4 cup shredded reduced-fat mozzarella cheese (3 ounces)
1 large tomato, peeled, seeded, and chopped (about 3/4 cup)
1/2 cup shredded zucchini
1/3 cup soft bread crumbs
1 tablespoon snipped fresh basil or 1/2 teaspoon dried basil, crushed
1 teaspoon snipped fresh rosemary or 1/8 teaspoon dried rosemary, crushed
1/8 teaspoon onion salt
Several dashes bottled hot pepper sauce
Fresh rosemary (optional)
Dried red chile peppers (optional)
Cooking Directions:
In a medium saucepan combine the broth, mushrooms, and barley. Bring to boiling; reduce heat. Simmer, covered, for 12 to 15 minutes or until barley is tender. Drain thoroughly.
Cut sweet peppers in half lengthwise; remove seeds and membranes. If desired, precook pepper halves in boiling water for 3 minutes. Drain on paper towels.
In a medium mixing bowl stir together the egg, 1/2 cup of the cheese, the tomato, zucchini, bread crumbs, basil, rosemary, onion salt, and bottled hot pepper sauce. Stir in cooked barley mixture. Place peppers, cut side up, in a 2-quart rectangular baking dish. Spoon barley mixture into the pepper halves.
Bake stuffed peppers, covered, in a 350°F (175°C) oven for 20 to 25 minutes or until filling is heated through. Sprinkle remaining cheese over the peppers. Return to oven; bake 2 minutes more. Carefully transfer peppers to a serving platter. If desired, garnish with fresh rosemary and dried red chile peppers.
Makes 4 servings.
Nutritional Information Per Serving (1/4 of recipe): calories: 195, total fat: 5g, saturated fat: 2g, cholesterol: 62mg, sodium: 364mg, carbohydrate: 28g, fiber: 5g, protein: 12g, vitamin C: 213%, calcium: 17%, iron: 8%.
Recipe and photograph provided by Better Homes and Gardens - BHG.com a member of the Home and Family Network for the best of cooking, gardening, decorating and more. © 2003 Meredith Corporation. All Rights Reserved.